News
Building a connection at 8 Bishopsgate 
This article was first published in the Facilities Management Journal on 3rd October 2023, Editor: Sarah Bean.
8 Bishopsgate a 50-storey tower in the heart of the City of London offers a generous range of amenities, all of which can be navigated by occupants via a user-friendly digital app. Sara Bean visited to see what's on offer.
The commercial property sector has become more challenging and competitive in recent years. Tenants are all too aware that the talent pool is swayed by the office experience and demand premium workspaces that offer all the benefits of sustainable design and first-class amenities as well as the latest digital technologies that enhance the occupant experience.
Research published by The Workforce Institute at UKG revealed that as a result of the COVID-19 pandemic, 87 per cent of UK workers have been propelled into new ways of working by the influx of digital technology. Deloitte's 2023 Global Human Capital Trends survey reports that more than 90 per cent of surveyed business leaders believe that using such technology to improve work outcomes and team performance is very important or important to their organisation's success.
One of the latest additions to the London skyline is 8 Bishopsgate, a 50-storey tower in the heart of the City of London. The building offers 560,000 sq ft of prime office space, but with 75,000 sq ft (10 per cent of the building) dedicated to amenities, including a café, events and viewing spaces – occupants are also being provided with a connected digital platform that offers smooth communication between them and the building in which they work.
CUREOSCITY APPROACH
The app is provided by Cureoscity, a leading occupier experience and property management platform, which in partnership with SwiftConnect, a provider of connected access enablement give tenants the means to access spaces and tap into other building resources through a single tenant experience app, using an NFC-enabled iPhone, Android or Apple Watch.
Digital wallets that allow you to store funds, make transactions, and track payment histories on devices like phones and tablets are growing in popularity, which is why explains Martin Peterlechner, Chief Commercial Officer, Cureoscity: "The relationship between Cureoscity and SwiftConnect is almost the secret sauce. Whereas occupiers might in the past have had a different access control system to the employee app, this could sometimes create a problem, with one system used to enter the building and different systems within the occupier demise.
"Because SwiftConnect has a middle layer that has pre-existing integrations with multiple different access control systems it integrates with Cureoscity's digital platform and the access to an employee badge in Apple Wallet, resulting in a seamless, friction-free journey from street to seat."
"This has been achieved from the ground up at 8 Bishopsgate, but going forward the SwiftConnect journey is going to be useful for slightly older buildings where there are multiple different systems put in place. That is an absolutely key enabler to make the journey through the building a reliable and simple process."
Once inside the building, the app aims to streamline the occupier journey and improve staff engagement, as Aimee Rootes, Cureoscity Chief Operating Officer explains:
"Cureoscity was founded in 2018 to look at the engagement aspect and how we could address connectivity, not just the door access piece but connecting the occupiers within the building. It's about that experience in the building and how the user and customer feel about it. That was coming into play in 2018 and went into hyperdrive with COVID and needing to push people back into buildings.
"We started out with an app focus – being able to populate and push content around offers both in the building and surrounding areas, using the door access as an activity piece. As you have to go into your app twice a day to move in and out of the building, this helps users engage with the content.
"We've now added elements like polls and closed questions to get immediate feedback from the wider occupier base. This is because the main point of contact for a building manager is going to be your occupier FMs who want to keep service charges down and make sure the amenities are as high quality as possible.
"The app is also designed to get people involved with building community experiences enabling the FM to have a wider reach in terms of the contacts they're able to hear and engage with."
8 BISHOPSGATE
Formed as a series of stacked blocks which maximise the lettable floor area while protecting views of St Paul's, 8 Bishopsgate was developed by developer and asset manager Stanhope for Mitsubishi Estate London and designed by Wilkinson Eyre and Arup. It is the first tower to achieve a BREEAM Outstanding and EPC A rating. It is powered by sustainable and smart technologies, including an AI integrated analytics platform that captures analyses and shares energy performance and floor-by-floor air provision that can be tailored to the individual preferences of each business.
Occupant comfort is further enhanced by urban planting across accessible roof terraces throughout the building that boosts biodiversity. It also offers a generous level of end-of-route facilities, which comprise 961 cycle spaces, 768 lockers and 54 showers. Access to the lockers is controlled by the app, with each occupier given an allocation that can either be pre-allocated or utilised as needed.
Tony Grizzanti, Client Services Director, Savills Property Management for 8 Bishopsgate says: "Companies are looking for a building with an exceptional ESG strategy, with a vast amenity offering. This is why we include the end-of-route facilities, a café area and on level 26, a restaurant bar/terrace, which is focused on exclusive occupier use."
These amenities are spread across several floors and designed to deliver a variety of spaces for socialising, networking, collaboration and wellbeing. There is an informal Corner Café at ground floor level, an Upper Corner business lounge at Level 1 and a dedicated TwentySix Kitchen, Bar and Terrace, with all the catering provided by the Rhubarb Hospitality Collection which will also manage the conference facilities and public viewing gallery.
Explains Grizzanti: "We also have the Think Tank auditorium – a 200-seater space where people can hold their own presentations and conferences. This features a breakout space above it – again prioritised for occupiers, and of course we have the Lookout Level 50 viewing area."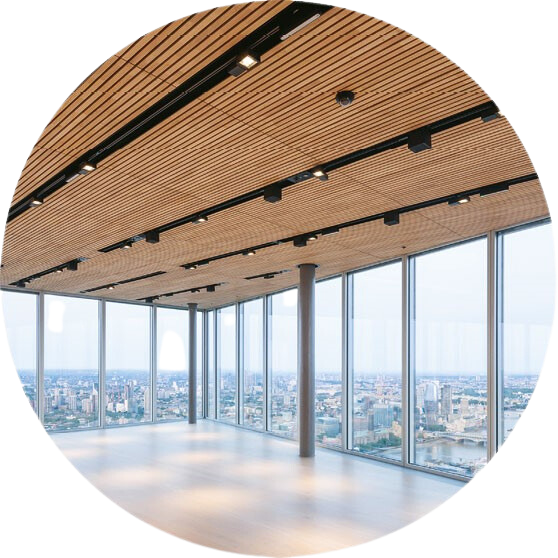 The Lookout offers occupants and general public visitors, who can enter from a dedicated entrance, a 2,500 sq ft viewing gallery with uninterrupted views of the City. It also includes 3,000 sq ft of executive suites and a 336-person events space. Tank Rooms (private meeting rooms) can also be used in conjunction with events or booked for meetings via the app.
DIGITAL BENEFITS
Offering new occupants a digital guide to navigating the building is an essential part of the mix, explains Rootes, who says Cureoscity is working with the FMs from each of the individual tenant companies.
"To get buy-in, you've got to build relationships with the occupiers so the managing agent introduces us as part of the onboarding process to ensure they're downloading the app and getting access to their passes – so by the time they enter the building on day one they're set to go.
"Bespoke elements come into the mix as well, in terms of the locker access and the food and beverages. For instance, when the café downstairs goes live there will be a click-and-collect option, enabling users to pre-order.
"Meanwhile, for the FM, they'll be able to access the data to see how the spaces are populated and how demand fluctuates."
Adds Peterlechner: "While the app gives for example occupiers access to the visitor management system so they can pre-book a room without having to contact receptionists, further up the pyramid it enables FMs to engage with occupiers and have the means to manage the building, including deliveries, permits or issuing helpdesk tickets.
"We've spent the last few months massively improving that part of our offer which means we can serve large well-appointed buildings like 8 Bishopsgate as well as smaller buildings whose FMs just need a way of managing their permits properly."
The app is also playing a part in the leasing strategy. The leasing agents have downloaded it on their phones, so that when they're escorting visitors around – if they've pre-booked them onto the system – they can get a feel for the use of the building. For new occupants, there is even a section on the app called 'my building' which breaks down the occupier handbook into bite sized chunks and works as an accessible onboarding tool.
Says Rootes: "With a brand-new building like this, when people don't know where the changing rooms are, when the amenities are going to open and how to book them, it's so useful that all that information is available on the app, offering an insight into how the building is run and who to contact with any questions.
"The beauty is you're moving people in and moulding behaviours from day one. Every time you move an occupier in we'll have a presence too. Part of the onboarding process with the first set of occupiers was that we were linked in with their steering group and doing a lot of training and onboarding with the app ambassadors who passed on that knowledge. We'll use the same process with the incoming occupiers.
USER EXPERIENCE
Key to the success of any workplace is user experience and Rootes' background in office concierge services means she understands why this front-of-house element is so important.
"There's an understanding of what we need to do to offer a great user experience. It is not just about the bricks and mortar but fostering a sense of community and enlivenment, which means that the workplace is more than just a place you go to work.
"It's about the feel of the building which will then trickle through to the individual occupiers, as the software in the app allows you to have that communication tool. In the past you might have those events but you had to painstakingly build up a mailing list that you'd include in a newsletter on a weekly basis which you hoped people would read.
"With the app, they have to use it to access the building and all the really good stuff that is happening in that community that is being built – so this enhances that concierge lifestyle."
Adds Peterlechner: "Our CEO and Founder wanted something that worked as the toothbrush test – that it has to be used at least twice a day, and that has influenced a lot of our thinking. So sure, we provide technology, but it's tech with a user in mind and a way of making the workplace experience simpler and more efficient."
International Law Firm, HFW, the first tenant in the building moved into floors 7-9 in July and will soon be joined by a cross-section of firms including law, insurance and security. Says Grizzanti: "We're seeing traditional firms taking floors on the lower levels, but as you go higher, the plates are smaller and the rent per sq foot is lower, we're getting a lot more companies from the West End, as the City is very vibrant."
During the tenant mobilisation process, Cureoscity will continue to work with the onsite team, working with them to offer data and insights on how the app is being used, how people are engaging with it from a content perspective and how to maintain interest so people are driven to it not just from the door access piece.
Rootes concludes: "It's about getting people back into the spaces, and for us, working with the landlord, the managing agent and the FMs, our goal is 'how do we make these spaces places where people want to be and get the most from these buildings.'"
This article was first published in the Facilities Management Journal on 3rd October 2023, Editor: Sarah Bean.
More articles
All latest news